SpatialMap_SparseSpatialMap¶
Demonstrate how to use sparse SpatialMap.
Demonstrate how to create sparse SpatialMap

Demonstrate how to put virtual objects onto SpatialMap

Demonstrate how to preview persistence contents

Demonstrate how to localize multiple maps and show contents on them
Configurations¶
Server access information is required when using sparse spatial map, which can be get from SpatialMap page in EasyAR develop center. There are two ways to set this information in Unity.
One is global configuration, all scenes using global spatial map configuration will use this value. Select <EasyAR -> Sense -> Configuration> in Unity menu,

and enter the information in Project Settings get from develop center,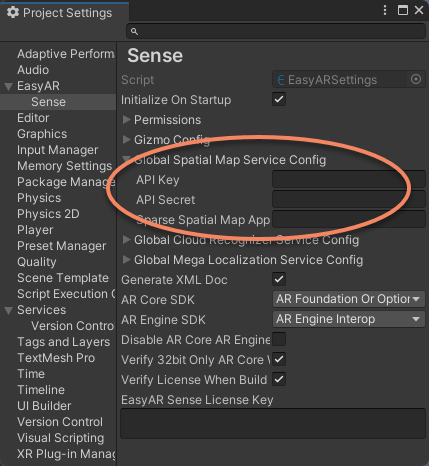 Another is local configuration in the scene, it is only valid to the current scene.